Folding Director's Chair & Table
Get a bird's eye view
When storage space is limited but comfort is a must-our Folding Director's Chair and Table are perfect for both on-the-go or stay-at-home.

Our Folding Director's Chair with the Awning is great for protection from the sun or watching the stars at night. Most comfortable lifeguard style chair you will ever relax in!! Paired with a Folding Director's table, it is the perfect poolside addition with room for your drink, snack and of course, radio!!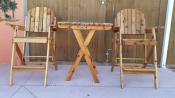 Click to enlarge image
Beautiful, comfortable and a space saver!!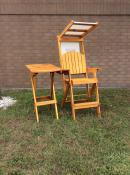 Click to enlarge image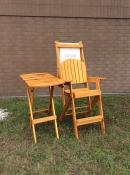 Click to enlarge image