Double Trouble
Our rendition of the chair and table combo
Designed for two-our new Combination Double Chair and Table is the newest addition to our fine furniture collection. The chairs are approximately 28" from ground to seat making it easy to get in and out of. The table, located between the chairs, boasts two shelves with plenty of room for drinks, snacks and a radio. The table can also be adapted to hold an umbrella for protection from the sun.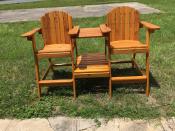 Click to enlarge image
Patio or poolside-perfect for two!!

Click to enlarge image